Victoria Beckham sends heartfelt message to son Brooklyn and his wife Nicola Peltz after they reunited at Paris Fashion Week amid feud rumours
Victoria Beckham has sent a heartfelt message to her son, Brooklyn Beckham, and his actress wife, Nicola Peltz Beckham, amid rumours of a family feud.
After successfully showing her eponymous line at Paris Fashion Week, the former Spice Girl was humbled to be surrounded by love, especially from her family.
The 48-year-old posted a carousel of photos from her debut PFW event, which featured her husband David Beckham and their children, Romeo, 20, Cruz, 17 and Harper, 11.
The couple's eldest son Brooklyn, 26, was also front row to celebrate Victoria's career moment, despite ongoing speculation that his American wife Nicola, 27, doesn't get along with his mum.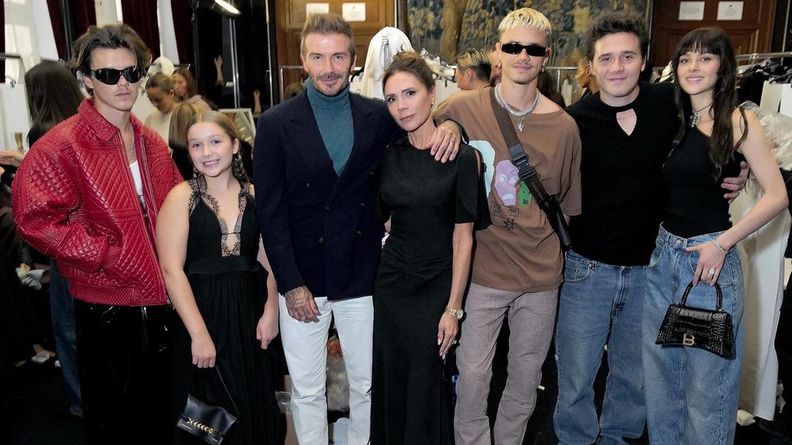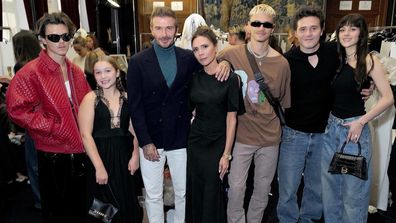 "I love you all so much x," the designer captioned a photo of her brood – including Brooklyn and Nicola – sitting inside the historic Val de Grace abbey in Paris, where the catwalk show took pace. 
The singer-turned-designer also shared another photo of the couple posing with her parents, Jackie and Anthony Adams.
 "Nana and Papa with Brooklyn and Nicola," the fashion icon captioned the picture.
READ MORE: Kim Kardashian fined $1.9 million for 'unlawfully touting' cryptocurrency on social media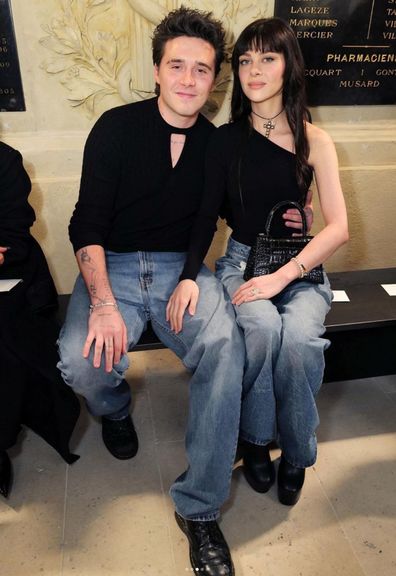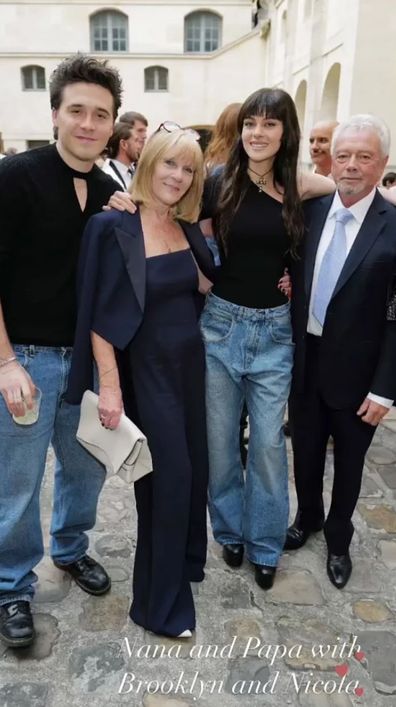 READ MORE: Kanye West speaks of 'battles ahead' after runway debut at Paris Fashion Wee
The united front comes after months of speculation that newlyweds had grown distant from the Beckham brood following reported tension at their April wedding between Victoria and Nicola.
In an interview with Variety's 2022 Power of Young Hollywood issue in August, Nicola set the record straight, explaining the feud rumours could've stemmed from her not wearing a Victoria Beckham-designed gown on her wedding day.
"I was going to and I really wanted to, and then a few months down the line, [Victoria] realised that her atelier couldn't do it, so then I had to pick another dress," said the Bates Motel alum, who ended up wearing Valentino Couture for the nuptials. 
READ MORE: Margot Robbie and Cara Delevingne involved in alleged incident with paparazzi in Argentina
"She didn't say you can't wear it; I didn't say I didn't want to wear it. That's where it started, and then they ran with that," she added.
In the same interview, Brooklyn also dismissed all the family feud reports, telling Variety: "I've learned they're always going to try to write stuff like that. They're always going to try and put people down. But everyone gets along, which is good."
For a daily dose of 9Honey, subscribe to our newsletter here.