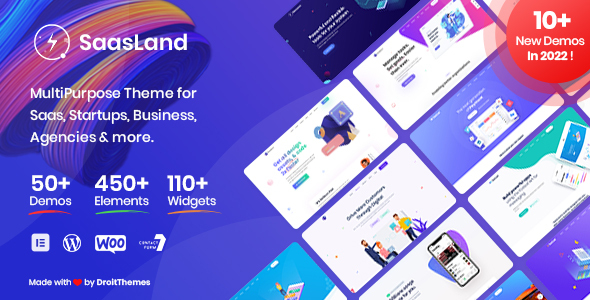 WordPress 6.x compatible.
10 New Demos added in 2022.
Fully Gutenberg compatible.
Fully WooCommerce compatible.
WPML – full multilingual support.
Full RTL support.
Theme Auto Update enabled.
One page demo included.
Child Theme included.
100+ PSDs included with images, graphics.
Current Version 3.5.5 View Changelog
Saasland is a multipurpose WordPress theme for saas, software, startup, mobile app, agency and related products & services. Saasland multipurpose WordPress theme is loaded with tons of features, elements & blocks, options that give its users real flexibility to create a dynamic, professional website in no time. It is 100% responsive and looks stunning on all types of screens and devices. Saasland – the SaaS Landing WordPress Theme is a better way to present and promote your start-up or boosting your current agency website. Users will love your Saasland multipurpose WordPress theme driven site as it gives them a unique user experience (UX), clean, modern and beautiful design. Saasland technology theme is surely a great way to kickstart your new startup project or website.
#1 Saas WordPress Theme on Market
Saasland multipurpose WordPress theme is a tried and tested Technology WordPress Theme build from the ground to be a functional, productive, and mature theme, all the while giving your business a unique web identity.
Saasland MultiPurpose WordPress Theme
Saasland business WordPress theme comes with 50+ demos, over 450+ elements, 95+ PSD with included images & graphics for a highly personalized experience for your Saas WordPress website. Saasland Multipurpose WordPress Theme provides a whole range of customizability options with Elementor drag and drop page builder allowing you to make your website stand out among the rest.
This responsive, retina-ready Tech Theme will surely attract users from all types of niches and grab their attention indefinably.
Saasland multipurpose WordPress theme comes with full compatibility with powerful tools such as WooCommerce, Gutenberg, WPML, RTL, and more.
Saasland WP theme can be used as an Agency WordPress Theme, Corporate WordPress Theme, SupportDesk WordPress Theme, Software WordPress Theme, Saas WordPress Theme, App landing WordPress Theme, Digital Marketing WordPress Theme, Startup WordPress Theme and more.
Saasland Saas WordPress theme provides seamless integration with all types of business, Saas-related tools, and plugins to give businesses a competitive edge on the market.
Saasland technology WordPress theme is one of the best ways to present and promote your startup or boost your current Agency WordPress site.
Saasland multipurpose WordPress theme offers a lot of useful elements, blocks, and pre-built demos for specific work cases and you have the ability to customize a Corporate WordPress Theme into something else as per your need, such as Saas WordPress theme, Technology Theme, Startup WordPress Theme and so much more.
Saasland Technology WordPress Theme
50+ Home pages, 100+ total pages, 450+ unique elements/blocks
Full Gutenberg editor compatibility
WordPress 5.x compatible
Full WooCommerce support
Slider Revolution plugin included
Demo created for multi-niche with niche specific elements
Elementor Drag-n-Drop Page Builder
Robust and solid user experiences (UX)
State-of-the art visual design
Clean, modern and beautiful design
Well organized and powerful admin panel
Powerful theme options
Based on Twitter Bootstrap 4.x Grid System
Contact Form 7 integrated
WPML – full multilingual support
RTL – full support for Right To Left languages
WooCommerce Wishlist Plugin Integrated
Mailchimp integrated
Instagram Integrated
Google Fonts
Various types of font icons
And More
50+ Home Demos
Utility pages that are must to build a multipurpose website
Service listing pages – 3 styles
Service details
Our process
Sign Up – 2 styles
Register – 2 styles
Careers – listing of jobs
Job single/details page
Apply to job
Thank You (for subscription or registration) page
Portfolio variations
Grid standard
Grid gallery
Masonry standard
Masonry gallery
Full width standard
Full width gallery
4 variations of project details
Inner pages to complete your website
About page
Team page
Pricing page
Contact – 2 styles
404 page
Awesome blogs
Blog list view
Image posts
Video posts
Audio posts
Quote posts
Link posts
Icon libraries integrated
Font-Awesome
Elegant Icon
Themify Icon
Simple Line Icon
Flaticon
Saasland Features and Shortcodes
Hero with texts and images
Hero with subscription form
Image background
Solid color background
Gradient color background
Features with mockups
Responsive mockup
Pricing plans – yearly, monthly
Compare pricing plans
Screens showcase gallery
Screens showcase carousel
Download app – call to action
FAQ – frequently asked questions
Portfolio with filter
Our team with social links
Testimonials
Clients gallery
Fun facts
Featured in gallery
Features showcase – various types
Pricing plans
Compare pricing
Newsletter subscription
Conversion targeted action sections
Features with icon
Image gallery – various types
Tabbed gallery
Image – full width
Image – half container width
Image – half browser width
Video
Request quote form
WooCommerce integrated
WPML integrated
Full multilingual support
Contact form 7 integration
Mailchimp integration
Google map
Latest blog section
Latest blog carousel
Blog list page
Blog details
Default image post
Video page
Audio details
Quote post
Link post
Search result page
So, Why wait! Take the plunge and download Saasland Multipurpose WordPress Theme today and grow your business ten folds with our robust Saas WordPress theme.
Changelog
3.5.5 (05 September 2022)

Tweaked: Header Option (Theme Settings)
Fixed: Search Icon conflict between WooCommerce and Default Header.

3.5.4 (01 September 2022)

Tweaked: Pagination for Portfolio Widgets
Tweaked: Added "Parent Title" support Breadcrumb area.
Fixed: Ribbon Style Missing - Pricing Table Tab Carousel
Fixed: Case Study Archive - Banner Setting doesn't work (Theme Settings)
Updated: Saasland Core plugin to (4.1.5) version

3.5.3 (23 August 2022)

Fixed: Post Setting doesn't work for single blog post
Fixed: Action Button in the header - not working globally Theme Settings
Fixed: Button Target Doesn't Work - Custom Header - Navbar Widget
Fixed: Portfolio Social Share link issue
Removed: Saasland Map Removed instead of use Elementor map
Updated: Saasland Core plugin to (4.1.4) version

3.5.2 (17 August 2022)

Fixed: Domain Name Checker Elementor Widget
Fixed: Comments Form Responsive issue
Fixed: Blog Grid & Masonry Style issue
Fixed: Recent Post widget style issue sidebar
Fixed: Google Font ON/OFF Switcher
Fixed: Category & Tag Archive Banner issue
Fixed: Team section social link icon issue
Added: HubSpot  CRM Plugin  included 
Updated: Saasland Core plugin to (4.1.3) version

3.5.1 (06 July 2022)

Fixed: Some Menu Options Theme Settings > Menu Setting
Fixed: Pricing Table Style four Button URL issue
Fixed: Search & Mini Cart icon options Theme Settings > Menu
Fixed: Compatible Elementor latest (3.6.7) version (deprecated responsive functions)
Updated: Saasland Core plugin to (4.1.1) version

3.5.0 (22 June 2022)

New: Added "Dark Mode" support for all the light demos
Updated: Saasland Core plugin to (4.1.0) version

3.4.9 (16 June 2022)

Fixed: WooCommerce Cart Page Issue
Fixed: WooCommerce Product Variant Issue

3.4.8 (10 May 2022)

Fixed: Upload footer background image (Under the Theme Settings)
Fixed: Data Analytics Demo contents import
Updated: Saasland Core plugin to (4.0.9) version

3.4.7 (10 May 2022)

Fixed: My Account page responsive issue.

3.4.6 (24 Apr 2022)

Tweaked: Removed unused CSS/JS code in order increase the loading speed
Tweaked: Bootstrap version upgraded to v5.0.2 from v4.0
Fixed: ACF Meta Field not showing when child theme activated
Updated: outdated copies of some WooCommerce template
Updated: Saasland Core plugin to (4.0.8) version

3.4.5 (31 Mar 2022)

Updated: Compatible Elementor latest (3.6.1) version (deprecated functions)
Updated: Saasland Core plugin to (4.0.7) version

3.4.4 (03 Mar 2022)

New: Added 3 Homepages (Architecture, Business, Education)
Updated: outdated copies of some WooCommerce template
Updated: Saasland Core plugin to (4.0.6) version

3.4.3 (25 Feb 2022)

New: Added 2 Homepages (New - Saasland Main, Construction)
Updated: Saasland Core plugin to (4.0.5) version

3.4.2 (18 Feb 2022)

New: Added 3 Homepages (App Landing, Freelancer, Cyber Security)
Updated: Saasland Core plugin to (4.0.4) version.
Updated: Demo Contents

3.4.1 (14 Jan 2022)

Tweaked: Google Fonts ON/OFF switcher options (Theme Settings > Typography ).
Updated: Added Custom Font Uploader plugin.
Updated: Saasland Core plugin to (4.0.3) version.

3.4.0 (30 Dec 2021)

New: Data Analytics demo
New: Design Agency demo
New: Footer Bottom (show/hide) option under the theme settings
Fixed: Countdown Elementor widget
Fixed: Pricing Table repeater button URL | Elementor widget
Tweaked: Deprecated functions of Redux Framework
Tweaked: Download section Elementor widget
Tweaked: Features Elementor widget
Tweaked: Header options
Updated: Saasland Core plugin to (4.0.2) version.

3.3.9 (5 Dec 2021)

Tweaked: Some animations (Theme settings > Animation)
Fixed: Animated effect broken
Fixed: Menu hamburger issue
Fixed: Parallax Effect Hero Section (Style 11) Elementor Widget
Updated: Demo contents
Updated: Saasland Core plugin to (4.1) version.

3.3.8 (25 Oct 2021)

Fixed: All shortcode style setting 
Fixed: Pricing Table tabs - button target not working
Fixed: Mobile menu parent link option
Fixed: Pricing Table center alignment dynamic option
Fixed: Overlay menu expanding issue
Fixed: Features widget style two - Themify Icon not working
Fixed: Pricing Table tabs - button link problems
Fixed: Team widget styles - link Issue
Fixed: Pricing Table tabs - ribbon color doesn't work
Fixed: App Hero - parallax animation background color Needed
Optimized : Some CSS and Javascript 

3.3.7 (18 Aug 2021)

Update: WordPress 5.8 compatibility
Added: Service carousel card's border color settings
Fixed: Saasland animation setting
Fixed: Elementor motion effects
Fixed: Custom attributes not working on the Pricing Table buttons
Fixed: Appearance > Widgets area is blank when Redux plugin is active
Fixed: Features Widget color setting - image with icon with image background
Fixed: Icon in Features widget

3.3.6 (14 July 2021)

Fixed: Subtitle not appearing - Pricing Table - Style 01
Fixed: Border color not working (default and hover state) - Subscribe Form - Style 01
Fixed: Button styling - Call To Action
Fixed: Image ratio issue - Blog post - Style 01
Added: New tab style in Saasland Tab
Added: Custom link for Apply Job
Added: Improved Subscribe Form functionalities
Fixed: Color not working (Testimonial - Style 01)
Fixed: 'Portfolio Gallery Two' filter issue 
Fixed: Testimonial style isseu 
Fixed: Console error - Home Marketing
Fixed: Review Payment Processing Hero 
Fixed: Hero section css isseu 
Fixed: Portfolio filter bug 
Fixed: Outdated copies of some WooCommerce templates

3.3.5 (22 May 2021)

Fixed: Color & typography field Subscribe form - style 07
Fixed: Features with shapes dark (Image icon issue)
Tweaked: Input field focus border color. Subscribe form - style 01
Tweaked: Default fonts load switch - Theme Options > Typography
Added: Droit Dark mode support css, js & function.
Fixed: Redirection from the dropdown menu over the blank parent menu.
Fixed: Responsive issue - Pricing Comparison widget

3.3.4 (22 Mar 2021)

Added: Droit Elementor Templating system
Added: Lordicon Interactive Icons
Added: Animated Icon widget
Added: Droit Addons For Elementor
Added: Droit Dark Mode
Tweaked: Horizontal tab background settings
Tweaked: Features vertical title icon background

3.3.3 (24 Feb 2021)

Fixed: Portfolio filtering Not Working except the English language.
Fixed: Pricing table tabs doesn't work correctly when change the tab month to annual
Tweaked: Sort/order option for the Team widget - style 03
Tweaked: Archive page title settings for custom post types
Tweaked: Plan show/hide option (Pricing Plan Comparison widget)
Tweaked: Social share links show/hive option (blog single and product single)
Fixed: Color & typography field not working (Tilt Image widget)
Tweaked: Style settings (Circle Counter widget)
Tweaked: Top shape image filed added (Call to Action - Style Three)
Tweaked: Category settings for (Faq with tabs widget)
Fixed: Lightbox conflict between Elementor and Saasland Core plugin

3.3.2 (09 Feb 2021)

Fixed: Preloader text typography
Fixed: Parallax Image (Positioning Issue) - Demo Landing
Tweaked: Image gallery slider Control Settings - Portfolio single page
Fixed: Service Icon Shadow Not working
Fixed: Mega menu dropdown issue (RTL mode)
Tweaked: Performance issue.
Tweaked: Cart page responsive issue.

3.3.1 (06 Jan 2021)

New: Droit Elementor Addons plugin integration
Tweaked: License verification system
Tweaked: Blog archive title [Theme Settings > Blog Page > Blog Archive page title]
Tweaked: Post style added [Posts Carousel widget]
Tweaked: Button target not working [Hero SEO]
Tweaked: Default footer bottom text appearing the same when it was blank
Tweaked: Selecting hooter/footer for the particular page [Edit page > Saasland page option]
Tweaked: Pricing table content style [style 01]
Tweaked: Footer style - section padding, list item color, background image [Theme Settings > Footer]
Fixed: Countdown date not appearing in Elementor editor mode [Date Countdown]
Fixed: Image width field not working [App Hero]
Fixed: Title-Bar Text alignment not working from the Theme Settings
Tweaked: Content style [Bubble Features]
Tweaked: Tab responsiveness [Horizontal Tabs]
Tweaked: Portfolio Filter option [Masonry Portfolio]
Tweaked: Drop-Down Menu Hover and active Color [Theme settings > Menu]

3.3.0 (18 Dec 2020)

New: Woocommerce 'add to cart' using ajax 
New: Woocommerce product 'quick view' using ajax
Tweaked: Hamburger menu color and Sticky menu color settings
Fixed: Some RTL styling issues
Fixed: Image missing after demo import [Home split]
Fixed: Social icon alignment issue [Team widget]
Fixed: PHP warning in Product Dark
Fixed: Body typography not working [Elementor - Features widget]
Tweaked: Hero animated text style
Tweaked: Device Responsiveness [Featured Video - Style 02]
Tweaked: Blog page menu color setting [Theme Settings > Blog pages > Blog archive]
Tweaked: Arrow and Dots settings [Saasland Carousel - style 01, style 03]
Tweaked: Dropdown menu [Home split]
Tweaked: Header action button target option [Theme Settings > Header > Action Button]
Tweaked: Responsive [Horizontal tabs - style 01]
Tweaked: Resolved PHP warning [Theme verification field]

3.2.9 (23 Nov 2020)

Fixed: Double logo issue after activating the caching plugin
Fixed: Body and heading typography
Tweaked: ACF field editing option (Enabled).

3.2.8 (14 Nov 2020)

New: Home Portfolio
New: Home Personal Portfolio
New: Home Creative
Tweaked: Title character limit option for Blog Posts and Posts Carousel Widgets
Tweaked: Typed word Color & typography not work without H2 tag [ Hero SEO ]
Fixed: Content not showing in RTL mode [ Saasland Carousel ]
Tweaked: RTL [ Home Gadget, Home Fashion, Product Dark, Creative Agency, Home Creative, Home Portfolio, Personal Portfolio ]

3.2.7 (02 Oct 2020)

New: Digital Agency home page
New: Custom post single page title-bar settings [ Portfolio, Case Study, Services ]
Fixed: Submit button goes down after submitting form - Subscription Form [ Style 09 ]
Fixed: Thumbnail disappears after publishing the page - Featured Video Widget [ Style 01 ]
Fixed: Responsive Issue - Home Payment Processing
Tweaked: Added pagination in filter section - Blog Posts Widget [ Style Two ]
Tweaked: Button target settings for the header 'Call To Action' button

3.2.6 (02 Oct 2020)

New: Fashion WooCommerce Home demo
Fixed: My Account Page form, button, text style
Fixed: Pricing Table Tabs Carousel | Tab Color Setting and button style
Fixed: Hero Event background doesn't change in preview mode.
Fixed: Dual Title Menu Settings for the Mobile Version (Mega Menu)
Fixed: Pricing Button ID Attribute Needed.
Fixed: Video Play Button and Player Not Working (Single Video 02 Widget)
Fixed: Button Remove Option (Pricing Table Comparison)
Fixed: Placeholder Text not changing - Subscribe Form (Style Three)
Fixed: Hero Featured Image Missing in the Mobile Version | Home HR Management
Fixed: Text overflowing Issue and Slide delay option added - Testimonial Widget (Style One)
Fixed: Responsive Issue | Home ERP
Fixed: Hero SEO - Animated Title Line Breaking Issue (Mobile Version)
Fixed: Image Hotspot widget hotspots responsive style setting
Fixed: Services Widget style two ( carousel ) not showing in Elementor
Fixed: Coupon Code doesn't work on the cart page 

3.2.5 (14 Sep 2020)

New: Product Dark [Home Page]
Fixed: Cart and Checkout Page Button Color
Fixed: Social Icon Color | Footer Widget
Fixed: Subscribe Form Button Color Settings | Footer Widgets
Fixed: Call to Action with Image | Button Color Field Missing

3.2.4 (03 Sep 2020)

New: Gadget Homepage
New: Custom Post Type "Team" 
New: Team Style Three
New: Shop Categories ( Elementor Widget ) new settings
Fixed: Button icon field added ( Call to action - Style nine )
Fixed: Responsive issue ( Footer Widget Gallery )
Fixed: Job Apply Button Title Not Changing
Fixed: Contact Form Alignment Issue (RTL Mode)
Fixed: Line Break Not Working | Hero Moving Text

3.2.3 (20 Aug 2020)

Fixed: WP Color Picker Issue

3.2.2 (11 Aug 2020)

Tweaked: Slider Settings added to Testimonial Elementor widget
Tweaked: Now, the repeatable items of Elementor widgets can be empty or delete.
Tweaked: Filter color options added to Masonry Portfolio Elementor widget
Tweaked: Filter color options added to Masonry Portfolio Elementor widget
Tweaked: Margin and Typography field added to Buttons repeater field in the Hero Section widget
Tweaked: Feature item title HTML tag change option added to Features widget
Tweaked: Triangle Shapes customization options added to the Download Section widget
Fixed: Dropdown parent menu link is not working from mobile version
Fixed: Menu item Title Atrribute not working
Fixed: "H1" Tag not working on the Landing Page Hero
Fixed: Button Target not Working - Hero Style 03
Fixed: Link target not working - SaasLand Tabs widget, Horizontal Tabs
New: Saasland Child 1.1.4
Updated: WooCommerce Outdated Files

3.2.1 (20 July 2020)

Fixed: Removed extra text from the header.php
Fixed: Mobile menu color not changing from the Theme Settings

3.2.0 (17 July 2020)

New: Auto theme update feature
New: Tilt Images (design files section), Footer call to Action, Responsive section, Typography section added to Saasland demo landing page
Tweaked: Renamed the "Hero (Parallax Images)" elmentor widget to Tilt Images and added a new style (Images with Round Shape)

3.1.9 (02 July 2020)

New: Custom URL field added to the Portfolio Page Settings.
New: Made the rest of Elementor widgets WPML compatible. Now, all of our Elementor widgets are WPML friendly.
Fixed: niceselect Js error on Domain Search Form
Fixed: Elementor Pro popup template not editable (if you are still facing the issue and running Elementor 2.9.9 or greater version, rollback to the previous version by Navigating to Elementor > Tools > Version Control > Rollback Version. From there, select the 2.9.8 version and click on the reinstall button.)
Fixed: Blog Posts (style one) Elementor widget carousel not working issue
Fixed: Horizontal Tab Widget - Style Two - Tab Image Not Changing While Switch a Tab
Tweaked: Instagram field added to Social links widget
Tweaked: Icon changing options added to the Pricing Table Comparison Elementor Widget
Tweaked: Category and Lightbox Plus Icon show/hide controls- added to the Filterable Portfolio Elementor widget
Tweaked: Necessary padding, margin are added to the Group, Media & Text Gutenberg blocks
Tweaked: Agency colorful Homepage, Spilt Homepage, Time Tracking Software Homepage, Security Software, Demo landing page
Tweaked: Parallax option added to Hero Section Demo Landing for the featured images

3.1.8 (20 June 2020)

Fixed: A critical error from the previous version

3.1.7 (18 June 2020)

Fixed: Full Image not showing on the left side panel in the Split Page template
Fixed: Preloader not showing in the Split Page template
Fixed: Shop categories Elementor widget's Category Show count
Fixed: Agency colorful page's call to action's background image not changing
Fixed: Some responsive issues (Serialized Features widget, Blog title-bar)
Fixed: Call to Action (style 08) button colors not changing
Fixed: App Hero "Style Title" controls not working after changing the Title tag
Fixed: Button colors of "Features with Image (White)" and "Integrations with Button" Elementor widgets
Tweaked: Circle Progress element now can be used in anywhere in the Split Page template
Tweaked: Colors and Typography fields are added to the Split page Elements
New: Make some Elementor widgets WPML compatible (Image Hotspots and Icon Boxes widgets)

3.1.6 (03 June 2020)

New: Height, Typography options are added to Theme Settings > Blog Pages > Blog Single
Fixed: WPML php error
Tweaked: Settings re-arranged in Theme Settings > Blog Pages ('Theme Settings > Blog Pages > Header' & 'Theme Settings > Blog Pages > Title-bar' moved to Theme Settings > Blog Pages > Blog Archive)

3.1.5 (31 May 2020)

Fixed: Split page header
Fixed: WPML php error
Fixed: Some responsive issues of Agency Color homepage
Fixed: Menu item URL not working on Mega-Menu Double Title mega menu
Fixed: Screen Features Widget- Style Three | Image Icon Padding Issue
Fixed: Custom Header - Nav center alignment - Border bottom saltation issue
Tweaked: Code structure (all Elementor widgets are put in a array in register_widgets() function in Saasland Core plugin)
Tweaked: Now, the Pricing Table Tabs widget can be placed more than one
New: Related Posts Title Character Limit option added to Theme Settings > Blog Pages > Blog Single

3.1.4 (24 May 2020)

weaked: Product Single Page (zoom icon alignment, product tags style)
Tweaked: WooCommerce subscription product type Purchase button, quantity input field style improved, recurring payment display issue fixed on checkout page
Fixed: Product Single Page (star ratting overflow issue, WooCommerce subscription product price alignment)
New: Made some Elementor widgets WPML compatible (Alert, App Info, Tabs Horizontal, Call to Action, Features, App Hero, Hero (Parallax Images), Pricing Table, Products (Grid View), Screen Features, Single info with icon, Single Video 02, Testimonials Style, Blog Posts, Bubble Features, Saasland Navbar, Text Button with Icon, Call to Action, Circle Counter, Client Logos, Date Countdown, Stats counter, Domain Search form, Download Section, Event Schedule Tabs, FAQ with Tabs, Features, Features Tabs, Features (Vertical), Features with Image (Dark), Features with Image (White), Features with Shapes (Dark), Hero Mobile, Hero Section, Hero SEO, Hero Video Slides, Hero Integrations, Hero ERP, Hero CRM, Hero with Background Image widgets)

3.1.3 (18 May 2020)

Fixed: Product quantity input increasing by 2 on RTL mode
Fixed: Download Section's button icon error
Fixed: Saasland Post Options > Banner Background image, Text color
Tweaked: Background Color Opacity field added to Saasland Post Options > Banner
Tweaked: Style Features fields added to Two Column Features widget
Tweaked: Border Color added to Normal State for Pricing Table Button (Style-One) widget
Tweaked: Button Colors added to Integrations with Button widget
Tweaked: The the product title in the Title-bar if the meta title is empty
Tweaked: Title Bar Overlay Color, Overlay Color Opacity and Background Image options added to Theme Settings > Blog Pages > Blog Single
Fixed: Call to Action (Style Five) button color conflicting issue
Fixed: Related Products title

3.1.2 (05 May 2020)

Fixed: Some rtl styling issues
Fixed: Portfolio widget's show portfolio count number overflows to top issue
Fixed: Horizontal tab's featured image conflicts if more than one section is placed in a page.
Removed: The custom Header, Footer template system will be disappeared on Elementor pro activation
Updated: Demo contents with including the missed 3 columns portfolio pages
Tweaked: Updated the Demo landing page contents and fixed some some styling issues
Tweaked: Some more css files minified

3.1.1 (01 May 2020)

Fixed: Some rtl styling issues
Fixed: Navbar Type not appear issue

3.1.0 (30 April 2020)

Tweaked: Job and Portfolio settings moved to Theme Settings > Custom Post Types
Tweaked: Theme Settings page style
Tweaked: Improved loading speed by minified some CSS files
Tweaked: Menu responsive
Tweaked: The custom Header, Footer template system will be disapeared on Elementor pro activation
New: Navbar Type settings added to Theme Settings > Header > Header Content
New: Mobile Menu settings added to Theme Settings > Menu > Mobile Menu
New: The Saasland Demo Landing page added to oneclick demo import
Fixed: Onepage navigation issue on individual page
Fixed: MailChimp form Style 5 not working

3.0.9 (24 April 2020)

Fixed: Single Service Page (Banner Show/Hide Option) Not Working
Fixed: Service Widget - Style One (Icon BG Color Not Working)
Fixed: Elementor Pro Navbar widget styling settings not working. To fix this issue, you need to disable the Mega Menu feature from Theme Settings > Custom Post Types
Fixed: Testimonial With Rating (Style Two) Previous Button Not Working Properly
Fixed: OnePage demo homepage, App 01 homepage, App 02 homepage, Chat homepage, Event homepage, Software Dark homepage styling issues on RTL mode
New: Typing words effect added to Hero Chat and Hero Event sections
Tweaked: Embed Map Widget Icon Color change fields added

3.0.8 (15 April 2020)

Fixed: Contact Form Button color not changing from the Accent color settings
Fixed: Service Featured Icon colors not changing issue
Fixed: Service Featured Icon not showing
Fixed: The "Website Footer" widget
New: Added the missing Service Attributes section in the Service Options metabox
Tweaked: "FAQ" Elementor widget (Order filter option added)

3.0.7 (13 April 2020)

Fixed: Register/Verify form works after reload the page
Fixed: A critical PHP error
Fixed: Hero Digital Marketing layout
Tweaked: Title Tag field added for the Title in "Hero Mobile" Elementor widget

3.0.6 (12 April 2020)

Tweaked: Code structure of Saasland Theme and Saasland Core plugin
Tweaked: Autoload enabled for Elementor widgets by Saasland Core plugin
Tweaked: Job apply page (no need to add any class with the Job Apply form shortcode from this version)
Tweaked: Contact Form 7's Select field style
Tweaked: Hero (Parallax Images) widget (Section Background color field added)
New: Typed words effect added to all Hero sections
New: Page Options added to Service post type
Fixed: Image Icon Not Working - "Icon Boxes" Widget
Fixed: Banner overlay color with image option
Fixed: FAQ show some limited posts per tab
Fixed: Call to Action (Style Six) color options
Fixed: Subscribe Form (Style Six) Button Color
Fixed: Some responsive issues (Features section in Home-Chat page)
Fixed: Agency Colorful Demo (Icon Issue)

3.0.5 (30 March 2020)

New: Demo Landing page included in the demo data (check it in the theme package folder/demo_contents/elementor_templates)
New: Carousel Settings added in the Elementor widget "Saasland Carousels" 
Fixed: Product gallery images thumbnails overflows to right side.
Fixed: Custom post type slug change settings for Service and Case Study post type
Fixed: Video icon moving on hover on Video post format
Fixed: "Hero Section" Elementor widget (Style_02 button settings)
Fixed: Image Icon Not Working - "Icon Boxes" Widget
Fixed: Author name repeats as the post count by the author.
Fixed: "Horizontal Tabs" Elementor widget Tabs not working while more than one section used in a page
Tweaked: "Hero Section" Elementor widget (widget files structure changed. Moved to widgets/hero folder and used select2 type for Style control field)
Tweaked: Elementor widget "Saasland Carousels" - Style 02 Carousel Rows
Tweaked: Portfolio Elementor widget (filter count option added)
Tweaked: "Testimonial with Ratting" Elementor widget (Style 04)
Updated: wooCommerce outdated template files

3.0.4 (20 March 2020)

Fixed : Hero Section (Style 09) - Background Slide show images not showing properly
Fixed: Event Homepage responsive issues
Fixed: Screen Features (Style One) - Reverse Column Not Working
Tweaked: Hero Section (Style 09) Gallery field added instead of the previous repeater field for the background images.
Tweaked: The Onepage demo

3.0.3 (19 March 2020)

Fixed: Navbar Elementor widget issues (fullwidth layout, infinite loop on canvas page template, action buttons spacing)
Fixed: Some styling issues caused by the previous version
Fixed: Image alt attribute not showing on Agency Colorful page
Fixed: Animation on Agency Colorful page
Fixed: Display only the admin name instead of showing the different Author name on the Author page's Title-bar
Fixed: Color options do not work from Theme Settings while the Child Theme activated
Tweaked: Hero Section (Style 04 - Dark) action button

3.0.2 (16 March 2020)

Tweaked: Header, Footer, Mega Menu excluded from the search result page
Tweaked: Hero Integration Elementor widget (color fields are added for changing the section background color).
Tweaked: Saasland Page Options > Banner Settings (Added fields- Background Type, Shape Image, Overlay Color)
Fixed: Hero Section - Style Two (background color not changing issue)

3.0.1 (11 March 2020)

Tweaked: Custom header now works from Page Options
Tweaked: Title Tag change option added to Hero Integration Elementor widget
New: Job attribute icon color change option added in Saasland Job Options
Fixed: PHP errors (on earlier than WordPress 5.2.0 version, Saasland_signup_form.php 113 number line)
Fixed: Animation issue
Fixed: Sticky Menu active color not changing issue

3.0.0 (19 February 2020)

Fixed: Custom header hide option from Page Options > Banner
Fixed: Features Elementor widget error
Fixed: Footer background settings
Fixed: App Hero Elementor widget buttons
New: Button Box Shadow option added to Call to Action with Image Elementor widget
New: Normal/Onepage Menu option added to the Saasland Page Options
Tweaked: The header.php file (re-organized the coding structure of header.php)
Tweaked: Background color field added to the Features with Shapes (Dark) Elementor widget
Tweaked: Minified some CSS files
Tweaked: Action button show in menu on mobile device

2.2.9 (06 February 2020)

Fixed: Critical PHP errors cased by the previous version 2.2.8

2.2.8 (05 February 2020)

Fixed: Some responsive issues
Fixed: Pricing Table - Style Two - button color issue
Fixed: Pricing Table 02 - URL target, nofollow settings
Fixed: Some rtl issues
Fixed: Custom header title
Tweaked: Disabled the Mega Menu post type archive
New: Read More text change option added to Theme Settings > Blog Settings > Blog Archive

2.2.7 (31 January 2020)

Fixed: Color options (issue: accent color is not changing on the shop pages)
Fixed: MailChimp Subscribe Form not working issue
Fixed: Shop banner background image not showing issue
Fixed: Some styling and responsive issues

2.2.6 (24 January 2020)

Fixed: PSD Download link
New: "Use Sticky Logo Only" option added in Theme Settings > Blog Settings > Header
New: "Sticky Menu Color" option added in Page Options
New: Select Menu list option added to the "Navbar" Elementor widget
New: Style Number fields group added to the "Process" Elementor widget
Tweaked: Made the Recent Post widget's post thumbnail image clickable
Fixed: Some responsive issues
Fixed: Screen Features Elementor widget's icon color field and added the Margin Around Title field

2.2.5 (10 January 2020)

New: Post Title Character Length field added in Recent Posts widget
New: Custom Post types enable/disable settings (Located in Theme Settings > Custom Post Types > Post Types)
New: Envato purchase verification added
New: Banner Options added to Portfolio single page
New: Text Color added to Banner Options (under Saasland page options)
New: Product Options (Header Options, Page Options, Banner Options) added to single Product page
Fixed: Home Analytics Software demo import issue
Fixed: wooCommerce checkout fields customizer settings
Fixed: Saasland Elementor widget style not getting in Footer template on blog pages
Fixed: woCommerce Update Cart button not working on RTL mode
Fixed: Custom Footer styling issue on blog, single pages
Tweaked: Theme size reduced (kept the demo contents on our server).
Tweaked: Color settings (Job listing color, cart icon color will get from Accent color settings)

2.2.2 (22 December 2019)

Fixed: Version changelogs notice

2.2.1 (22 December 2019)

Fixed: Thumbnail Mega Menu scrolling issue
Fixed: Pricing Table 02 Elementor widget's Style 01 duration field missing.
Fixed: Hero Video Slides (located on the Home Digital Agency page) responsive issue
Fixed: "Stats Counter" Elementor widget counting issue
Fixed: wooCommerce checkout page field settings issue
Tweaked: Anchor tag will not show if title url is empty in "Features" Elementor widget

2.2.0 (16 December 2019)

New: Chat Homepage
New: Event Homepage
New: Style 12 (Chat) added to "Hero Section" Elementor widget
New: Style 13 (Event) added to "Hero Section" Elementor widget
New: "Parallax Images" Elementor widget
New: "Date Countdown" Elementor widget
New: Style Two (Carousel) added to "Team" Elementor widget
New: Style Five (Event) added to "Pricing Table" Elementor widget
New: Style Two added to "Curve counter" Elementor widget
New: "Event Schedule Tabs" Elementor widget
Tweaked: Time Tracking Software homepage design changed

2.1.0 (3 December 2019)

New: Security Software demo
New: Tracking Software demo
Tweaked: Split page responsive
Fixed: Saasland Child theme style issues

2.0.7 (1 December 2019)

Tweaked: Comments (awaiting moderation comment, used Comment Walker class instead of the previous callback function.)
Tweaked: WooCommerce Checkout page style improved
Tweaked: Performance improved (set dependency for nice select plugin's JS, CSS files and split the shop.css with creating a individual CSS file checkout.css for checkout page)
Tweaked: "Button with Icon" Elementor widget (hover color change option added and some more icon libraries added)
Tweaked: "Serialized Features" ELementor widget (separator color change option added)
Fixed: Saasland OnePage demo's floating elements not not showing in Safari browser.
Fixed: "Call to Action" Elementor widget's background color
Fixed: Revolution Slider not importing on Web Hosting demo
Fixed: Checkout fields required/optional (name field make required and the company field required status gets from the Settings)

2.0.6 (26 November 2019)

Updated: Slider Revolution Plugin

2.0.5 (20 November 2019)

New: "Saasland Carousels" Elementor widgets with 6 different styles
New: Service Details Page
Tweaked: "Process" Elementor widget (improved color options and icon box shadow option added)
Tweaked: "Call to Action" Elementor widget (button color changing options for Style 03)
Tweaked: "Saasland Testimonials" Elementor widget (accent color change option added)
Tweaked: "Horizontal Tabs" Elementor widget (color change options added for Style One)
Tweaked: Menu Settings (hamburger menu color)
Tweaked: "Features" Elementor widget (Style Read More options added for Style 02)
Fixed: Product single page (php error fixed)
Fixed: Malware detected js file (multiscroll) replaced with the valid js file
New: Saasland Child version 1.1.2 (CSS enqueue issue fixed)
Removed: Blog Grid Elementor widget (since you can make it from Theme Settings > Blog Settings)
Updated: Advanced Custom Fields-pro to Version 5.8.7

2.0.0 (09 November 2019)

Tweaked: Menu settings
Tweaked: Typography settings
Tweaked: Theme Settings page style
Tweaked: Blog single full width in full width mode
Tweaked: Performance improved (CSS, JS files dependency have set)
New: "Job Settings > Styling" options added in the Theme Settings
New: "Style 11 (Demo Landing)" Hero style added to "Hero Section" Elementor widget
New: "Style Four (Demo Landing)" added in Testimonial with Ratting Elementor widget
New: "Support Board" plugin listed in Appearance > Install Plugins (recommended plugin).
Fixed: Onepage demo's design issue ("App Hero" and "Call to Action with Image" Elementor widget)
Fixed: SaasLand Child Theme (version 1.1.1)
Updated: WooCommerce outdated template files