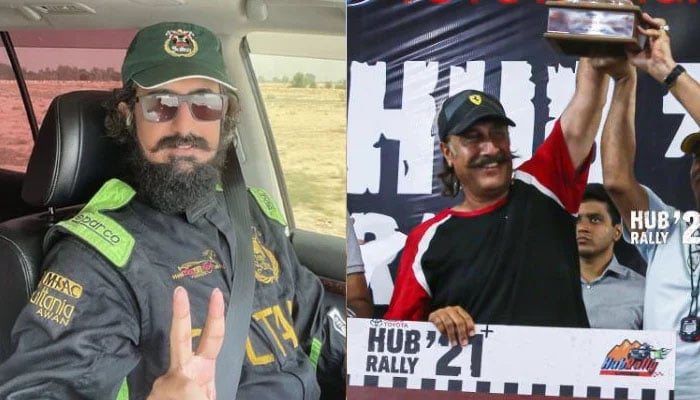 GADANI: Defending champion Nadir Magsi narrowly missed the chance to defend his title as man-in-form Sahibzada Sultan clinched Hub Rally 2022.
In another exciting-cum-fun episode of Hub Rally — famously called the T20 format of off-road racing —  Sultan, who is the 10th Descendant of Hazrat Sultan Bahoo and renowned off-road racer, covered a 50kms-long track with a lot of tough and tricky twists and turns in 37 minutes and 58 seconds to win the title in Prepared A category. 
His competitor Magsi, also a famous politician, remained just 22 seconds short to finish the sandy-cum-seaside track in 38 minutes and 20 seconds.
Sultan and Magsi, having won several off-road races around the world, were too far away to be chased by their competitors in their category. Telah Rizwan bagged the third position in this category after he covered the given distance in 43 minutes and six seconds.
From locals to visitors, the Prepared A category was the major attention of this shorter format of the race.
Meanwhile, hailing from Gadani, Bebark Saghee won the title in the Stock A category. The local racer covered the distance in 41 minutes and 31 seconds.
Awais Shahzad, Aijaz Abid, and Dost M Sadora bagged titles in B, C, and D categories, respectively.
In the women's category, Nida Wasti won the race in Stock whereas Maham Shiraz bagged the title in the Prepared category. Nida drove her car from all the twists and turns to reach the finish line in 47 minutes and five seconds. On the other hand, Maham covered the same distance in 46 minutes and six seconds.
Mashal Fatima, a debutant in this year's Hub Rally, covered the distance in one hour and four seconds. Daughter of renowned racer couple Roney Patel and Tushna Patel, Dina was unlucky to get disqualified from the race after her car suffered technical issues just four kilometres before reaching the finish line.
The chief organiser of Hub Rally, Shujaat Sherwani also raced his car this time around in a newly-introduced Veteran's category. Shujaat won the race in this new category by covering the given distance in 50 minutes and 35 seconds.